Rate my blog now!
Check this out
Caught 'The Wolverine' over the weekend and I thought I do a quick review on it. Even if you haven't watched the film yet, my review is not going to contain any significant spoilers so no need to worry!
The Wolverine
The good things
Set primarily in Japan (Tokyo), the film acts as a sequel to X-Men 3: The Last Stand. Don't know about you but I found this surprising as I thought it would be a sequel to 'X-Men Origins: The Wolverine' instead. Nevertheless, 'The Wolverine' does a great job at redeeming the X-Men movie franchise after the huge disaster 'X-Men 3: The Last Stand' thanks to its incompetent director Brett Ratner.
Plot wise, the movie focuses a lot on Wolverine's psychological trauma after the ordeals he went through, like killing Jean Grey in X-Men 3. There is also a twist at the end although one might not call it a twist since I saw it coming from a mile away. But the plot is definitely slightly more complicated than other superhero movies like 'The Avengers' or 'Man of Steel' due to the air of mystery in the film. So definitely not just another mindless popcorn movie.
Solid acting
Its been over a decade since Hugh Jackman took on the role of Wolverine and he doesn't seem to have aged one bit in The Wolverine. He is topless or wearing a tight singlet in pretty much the entire film so girls and gay guys would definitely be thrilled with the overwhelming eye candy on screen. I watched this movie with a girl and it was quite ironic that I was gushing over Hugh Jackman more than she was lol.
Of course, Academy Award nominee Hugh Jackman is definitely more than just a hunky action star and the fact that he plays Wolverine with even more depth and emotion in the film is testament to his acting capabilities. I can't imagine any other actor ever taking on the role of Wolverine and Hugh Jackman has become pretty much the epitome of The Wolverine and the best thing is that no one seems to get tired of ever seeing him play Wolverine. So overall, Hugh gives a very solid performance as a psychologically tortured Wolverine in the film.
Seriouisly just look at that FINE body!
The rest of the cast also deliver fine performances. Apart from Hugh Jackman, it is unlikely that you would know any of the other actors (Unless you're Japanese) as they are pretty much unknown actors. That said, everyone manages to bring justice to their respective roles. Tao Okamoto who acts as Mariko stands out particularly for me as when she first appeared, the first thing that came to my mind was 'What a beauty' as she has that delicate Chinese beauty kind of vibe.
Tao Okamoto as Mariko
The only thing that I don't understand is why they chose Rila Fukushima for the role of Yukio. I am sure hundreds or even thousands of Asian girls would kill for that role and why they picked Rila is beyond my comprehension. I mean, Rila does a great job but I actually find her quite... ugly. Surely there are prettier Japanese actresses to choose from no?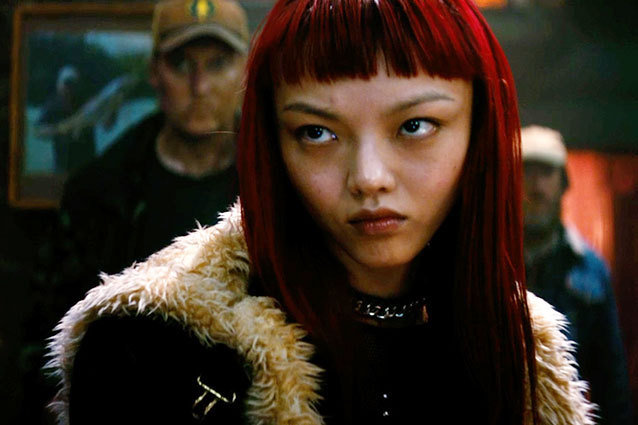 Rila as Yukio: Her eyes are too far apart and her forehead is too big!
Fight scenes
Although it is a comic book movie, the amount of special effects used is probably a lot less than what anyone expected. As the action sequences are primarily between Wolverine and numerous ninjas and samurais, most of the action sequences are hand to hand combat scenes and the choreographer of the film definitely deserves a pat on the back for expertly executing the complicated fighting scenes. The stand out scene for me was a scene in the movie where Wolverine battles a group of traid members on top of a train. While top-of-the-train chase scenes has been done numerous times, the fight scene on top of the train in The Wolverine is so over-the-top you can't help but be impressed by it.
The Bad things
I have been an X-Men fan since I was a young boy and one of the best things about watching X-Men movies is to see your favourite cartoon characters be brought to life on the big screen. However, the biggest flaw in The Wolverine is the lact of mutants in the movie. Apart from Wolverine and The Silver Samurai, the only other mutants in the movie are Yukio and Viper who are both characters I have never heard of before. Surely they could have picked another X-Men storyline which would be able to showcase more famous characters. Or surely, they could have brought integrated some better known X-Men characters into the film? So while this flaw might not matter much to you, my inner fan boy was disappointed.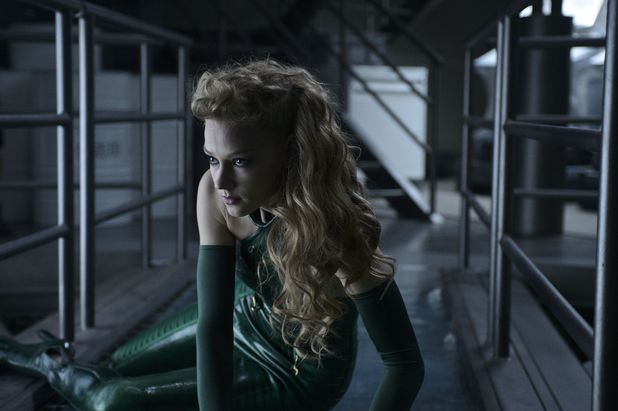 Viper
Conclusion
Regardless of its flaws, The Wolverine is still a must-watch for anyone who is a fan of the X-Men franchise. The Director manages to do a fine job at redeeming the X-Men franchise and injecting some credibility into it after Brett Ratner messed it up with X-Men 3.
Overall: 3.5 Stars.
The Wolverine: 3.5 Stars
Got a question about this post or anything else? Ask me now!
Email: shakethathing69@gmail.com
Other similar posts to check out:
The Hobbit review
Dream-Makers review
X-Factor Review